Why Obama Frees Chelsea Manning 28 Years Ahead of Schedule after 7 Years in Prison
Why Obama Frees Chelsea Manning 28 Years Ahead of Schedule after 7 Years in Prison
Chelsea Manning is a former army analyst who was convicted of espionage in 2010, and has since been serving out her 35-year sentence in the Fort Leavenworth disciplinary barracks in Kansas.
Thanks to Obama, this will change. She will become a free woman in May 2017, 28 years ahead of schedule.
She is one of 209 to have her sentence commuted
Was responsible for one of the largest classified leaks in history
Her life was at stake as a transgender woman in a male prison
Human Rights organisations have praised the move
Prominent Republicans have condemned it
It remains to be seen how this will affect Julian Assange and Edward Snowden
Obama has commuted her sentence after serving seven years for leaking more than 700,000 secret documents to Wikileaks, one of the largest breaches of classified material in US history.
This included the highly controversial video showing airstrikes on Baghdad by two U.S. AH-64 Apache helicopters. This attack left a dozen dead, including two Iraqi men working for Reuters news agency.
Chelsea Manning risked EVERYTHING & has languished in prison for 7yrs cause she chose 2 reveal documents about the lies that led to Iraq War

— Michael Moore (@MMFlint) January 17, 2017
[removed][removed]
The video footage raised new questions about U.S. military conduct in Iraq and prompted debates over whether the airstrikes should be considered war crimes. The footage has been dubbed "collateral murder" by Wikileaks.
Obama commuted her sentence along with 208 other individuals and pardoned 64.
Her life was at stake
"It really is a great act of mercy by President Obama," said David Coombs, Manning's lawyer. "For myself and Chelsea, I'm very thankful he took that option."
"This move could quite literally save Chelsea's life, and we are all better off knowing that Chelsea Manning will walk out of prison a free woman, dedicated to making the world a better place and fighting for justice for so many," said Chase Strangio, another of Manning's lawyers who works with the American Civil Liberties Union's LGBT Project.
Manning in recent years has been increasingly associated with her struggle to live as a transgender woman in a male prison. She attempted suicide last summer, which she said was triggered by the Army's refusal to acknowledge her doctor's recommended treatment plan. She has been placed in solitary confinement twice.
Chelsea Manning is a brave hero who never should have been tortured, caged and punished. President Obama did the right thing!

— jeremy scahill (@jeremyscahill) January 17, 2017
[removed][removed]
Her doctor officially diagnosed her with gender dysphoria in 2013 – recommending her to undergo hormone therapy. The army agreed to pay for the recommended gender-affirming surgery in September.
Rumours of clemency
Last week NBC News cited a Department of Justice source that claimed Manning was on Obama's shortlist.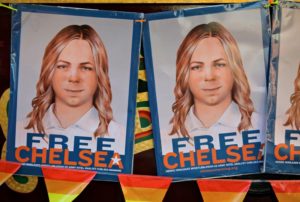 In an accompanying statement filed by her lawyers in November, Manning said she accepted "full and complete responsibility" for her actions. "I have never made any excuses for what I did," she said, adding that she is a "far different person than I was in 2010."
"I am not Bradley Manning [her name before she transitioned]," she wrote. "I never really was. I am Chelsea Manning, a proud woman who is transgender and who, through this application, is respectfully requesting a first chance at life."
Assange & Snowden

Wikileaks tweeted that Julian Assange would agree to extradition to the United States to face charges if Obama did indeed grant Manning clemency.
If Obama grants Manning clemency Assange will agree to US extradition despite clear unconstitutionality of DoJ case https://t.co/MZU30SlfGK

— WikiLeaks (@wikileaks) January 12, 2017
[removed][removed]
Currently in refuge inside the Ecuadorian embassy in London since 2012, it will be fascinating to see if Assange follows through with his promise. Melinda Taylor, who serves on Assange's legal team, said he would not be going back on his word. "Everything that he has said he's standing by".
President Obama did the right thing with Chelsea Manning's sentence today. Now, how about pardoning Snowden?

— Jesse Ventura (@GovJVentura) January 17, 2017
[removed][removed]
Although more than a million supporters of Edward Snowden petitioned Obama, he was not pardoned, and he also made a similar offer of surrender. Obama said in November, "I can't pardon somebody who hasn't gone before a court and presented themselves."
Let it be said here in earnest, with good heart: Thanks, Obama. https://t.co/IeumTasRNN

— Edward Snowden (@Snowden) January 17, 2017
[removed][removed]
White House Press Secretary Josh Earnest said that Obama's decision to grant clemency had nothing to do with Snowden's case.
Backlash
It comes as little surprise that some senior members of the Republican Party are angry about the decision.
Chelsea Manning's treachery put American lives at risk and exposed some of our nation's most sensitive secrets.

My full statement ? pic.twitter.com/PcQrgK2SI3

— Paul Ryan (@SpeakerRyan) January 17, 2017
[removed][removed]
We ought not treat a traitor like a martyr. My statement on the commutation of Chelsea Manning's prison sentence: https://t.co/8f0QMITSAQ

— Tom Cotton (@SenTomCotton) January 17, 2017
[removed][removed]
McCain added: "It is a sad, yet perhaps fitting commentary on President Obama's failed national security policies that he would commute the sentence of an individual that endangered the lives of American troops, diplomats, and intelligence sources by leaking hundreds of thousands of sensitive government documents to WikiLeaks, a virulently anti-American organisation that was a tool of Russia's recent interference in our elections."
.@POTUS's commutation of #ChelseaManning's sentence is a grave mistake that will encourage further acts of espionage https://t.co/nB5SeHCrKM

— John McCain (@SenJohnMcCain) January 17, 2017
[removed][removed]
The White House has released a statement on the matter. "Clemency is an extraordinary remedy, granted only after the President has concluded that a particular individual as demonstrated a readiness to make use of his or her second chance."
Of course, the internet also finds the irony:
Fun to watch GOP explain that they're pissed about Chelsea Manning clemency for leaking info, but not mad about RUSSIA HACKING OUR ELECTION.

— Kaivan Shroff (@KaivanShroff) January 17, 2017
[removed][removed]
Share