Trump and Putin - Getting Warmer Over Syria?
Trump and Putin - Getting Warmer Over Syria?
President-elect Donald Trump and Russian President Vladimir Putin have already been in discussions about Syria. The conversation, which took place over the phone on Monday, included discussion over a "settlement for the crisis in Syria".
The Kremlin also said that Trump and Putin agreed that the current relations between the two superpowers were "unsatisfactory".
This phone call comes less than a week after Putin congratulated Trump on his surprise victory by way of telegram, with the Kremlin noting that the Putin had expressed a desire for the two powers to move away from their "crisis state". Efforts seem to be underway, but it is unclear who initiated the call.
Trump's presidential transition team released a statement that the president-elect was "very much looking forward to having a strong and enduring relationship with Russia and the people of Russia."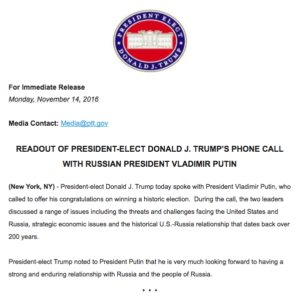 Trump came under heavy fire from Democrats over his praise of Putin, who has a history of persecuting political opponents and journalists.
"At least he's a leader," Trump said of Putin in 2015, "unlike what we have in this country." The warm feelings appeared to be mutual when Putin returned the praise, calling Trump "bright and talented."
NATO
Trump has made repeated remarks over NATO, calling the organisation out-dated, and claiming that other member nations are 'ripping off' the US.
This, along with his apparent indifference to Putin's aggression in Ukraine has lead to many European leaders to worry about what his presidency would mean for NATO's future.
Trump's alleged relationship with Putin has caused concern among several former high-ranking government officials throughout his campaign.
"In the intelligence business, we would say that Mr. Putin had recruited Mr. Trump as an unwitting agent of the Russian Federation," former acting CIA Director Michael Morell wrote in August. The following month, former Secretary of Defense Robert Gates wrote that "Mr. Trump's expression of admiration for the man [Putin] and his authoritarian regime are naive and irresponsible."
Trump's relationship with Russia also came under scrutiny when many top US officials in the intelligence community believed that hacking of Hillary Clinton's emails were conducted by Russia-aligned operatives. Those emails left a permanent smudge on Clinton's campaign for the final month.
Senator John McCain on Tuesday blasted any attempt to play nice with Russian President Vladimir Putin, urging the new Trump administration to stand "on the side of those fighting tyranny" and not with "a former KGB agent who has plunged his country into tyranny."
Trump will become the US President just as diplomatic relations between the two superpowers are at a low point – the US has repeatedly been frustrated by Russia's military action in Ukraine and Syria. The US government argues that Russia's involvement in Syria, backing the Assad regime, has perpetuated the conflict that has so far cost 600,000 lives.
In October, U.S. Secretary of State John Kerry called for a war crimes investigation of Russian and Syrian government-led airstrikes in the besieged city of Aleppo.
Putin's bombed 3 hospitals in Syria since he and Trump agreed yesterday to 'cooperate' against 'terrorism.' Hospitals. Just FYI.

— Zeddonymous (@ZeddRebel) November 15, 2016
[removed][removed]
Share