THE VOTE IS IN: NO BOATY MCBOATFACE :(
THE VOTE IS IN: NO BOATY MCBOATFACE :(
After a surprising response from the Internet, the Natural Environment Research Council (NERC) has officially chosen a name for their new Arctic vessel.
When they allowed online voting, the name RRS BOTY MCBOATFACE was in a clear lead. This was the result of the power of Internet trolls, and all eyes were on the NERC to see whether they would follow the online voice and give the research vessel a ridiculous name.
The NERC was in a tough spot, as incurring the wrath of the Internet is never a good thing. But they handled the situation perfectly. One thing that many Internet trolls love is the documentary series Planet Earth, and this iconic series was narrated by none other than the legendary Sir David Attenborough, so this prompted the elegant move by the NERC. They named the boat the RRS Sir David Attenborough, after the absolutely beloved British personality. This name was lower down on the list, but they really made a good choice, as Sir David Attenborough has made his living inspiring millions to care about the Earth, taking them on trips through the majestic and seemingly magical places on this planet.
 
As a small concession to the voters, the NERC did elect to name some part of the boat after the winning entry. They chose to name one of the remotely operated underwater research submarines BOATY MCBOATFACE.
 
Genuinely, a job well done by the NERC. The benefits of this is that the  NERC has become well known in the international community, which is excellent for them and great for science in general.  "In many ways we feel this has been an astonishingly great outcome for us. In addition, it has put a smile on everyone's face" said Professor Duncan Wingham, the chief executive of the NERC.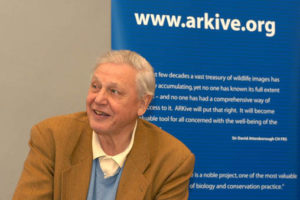 Wikipedia.com
 
 
Who is Sir David Attenborough?
Born in 1926, he is a famed broadcaster and naturalist
Former senior manager at the BBC
Wrote and presented the Life series in 1979, gaining an audience of nearly 500 million viewers.
Narrated the 2006 series Planet Earth, a massive success, which helped to bring nature documentaries to a more mainstream audience.
Knighted in 1985 for his work.
Received more than 30 honorary degrees from British Universities.
Photo Credit: Twitter user @

NERCscience

.
Share