THE 5 WORST SEX CRIMES OF ISIS-LEADER BAGHDADI
THE 5 WORST SEX CRIMES OF ISIS-LEADER BAGHDADI
Is the "Islamic State" (IS, ISIS or Daesh) using rape as a manipulative tool? 
Rape & slavery of thousands of women in the name of Allah?
According to sources, the IS allows and encourages rape of helpless women as a 'reward' for IS victories.
Here's a roundup of IS leader's Abu Bakr-al Baghdadi's most horrendous 5 sex crimes, which he either committed himself or strongly supported his followers to do so.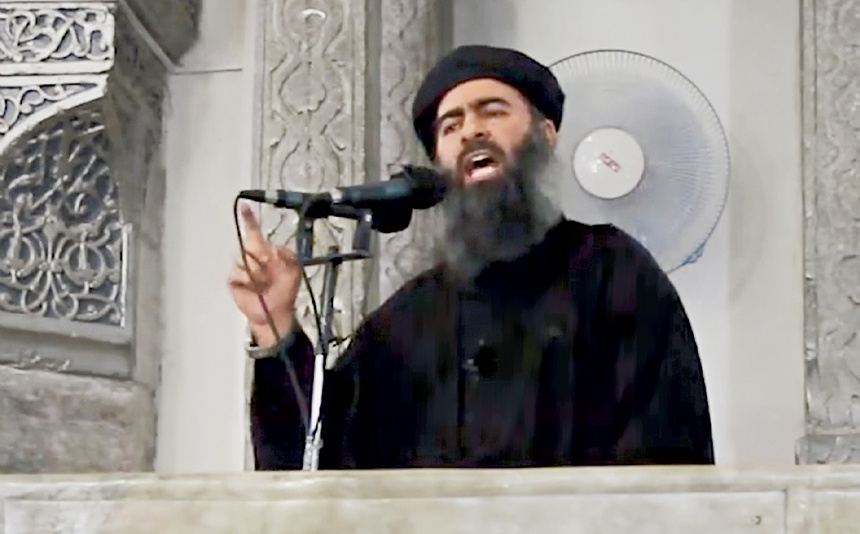 1. Rape and mysterious death of American aid worker Kayla Mueller:
Islamic State leader Abu Bakr al-Baghdadi has been exploiting women as sex slaves, and a horrifying story of a new victim has now emerged.
American aid worker Kayla Mueller, who was very vocal in expressing her disapproval of human misery in Syria, was unfortunately abducted by Islamist militants. According to reports, she had travelled from across the Turkish border to visit a hospital in Aleppo as part of her humanitarian work in the Syrian region. She was accompanying a contractor from the Doctors Without Borders group, who had requested her assistance for the trip to the hospital. Mueller was taken by IS operatives during the road trip to Aleppo, and was held captive for over 17 months in Raqqa. She was housed in IS leader Abu Sayyaf's house as a prisoner for Baghdadi, who repeatedly raped her. According to sources, Baghdadi's jihadi cohorts even ripped out Mueller's finger nails before informing her that she would be forcibly married to Abu Bakr al-Baghdadi.  Ironically, a marriage is considered Islamic only if the woman consents to it, which means that Baghdadi's forced marriage and rape of Mueller was entirely un-Islamic. Strangely, Baghdadi claims he is a 'leader' of Muslims around the world.
The IS later claimed that Mueller died as a result of Jordanian airstrikes in the region. Though U.S. officials confirmed her death, they denied that any Jordanian airstrikes had been carried out that day, which means that Mueller's death is still unexplained and mysterious. Many believe she was murdered by the IS.
2. Torture and rape of 16-year old sex slave:
Young Yazidi woman Muna personally recounted how she was tortured by Abu Bakr al-Baghdadi.  She narrates how she was chosen to become Baghdadi's sex slave. After the Mount Sinjar siege in 2014, 61 Yazidi women were taken hostage by the IS – ranging from the ages 9-22. After being held captive for two nights by five militants at a property in IS capital Raqqa, Baghdadi himself arrived to choose his slave. He was accompanied by his 30-year-old Kurdish son-in-law and bodyguard, named Mansour. After selecting Muna as his sex slave, Baghdadi transported her to a  two-storey house located in the centre of Raqqa, where he lived with three other wives, three sons and three daughters.
However, Muna explained that Baghdadi's wives were not docile either. She said, "The wives were always worse than Baghdadi. They were always telling the children that they were lazy and beating them.'
When Muna attempted to escape, she was unfortunately recaptured by IS guards and returned to Baghdadi. To punish her, he severely beat her with a belt and a garden hoe, causing multiple bruises on her body. He also slapped her till her nose bled, telling her that she 'belongs to the Islamic State.' She also shared that one beating by Baghdadi was so horrific, that it left her with a dislocated shoulder, and resulted in bone fractures on her friend's face.
Eventually, Muna managed to escape her torture, fleeing from captivity to be rescued by Kurdish forces. She is now hopeful to start a new life in Europe.
3. Rape of 22-year old Noor:
In October 2015, it emerged that Abu Bakr al-Baghdadi had announced horrific and warped ideas about sex, encouraging IS fighters to sexually abuse women. According to the report, he wrote a letter claiming that a woman could become Muslim if she was raped by at least 10 IS fighters, which rapists are using as justification for their crimes.
This letter led to the terrifying rape of 22-year old Noor. She revealed that a jihadist showed her Baghdadi's letter as justification for the brutal rape that was to follow. She said, "He showed me a letter and said, 'This shows any captured women will become Muslim if 10 ISIS fighters rape her.' There was a flag of ISIS and a picture of Abu Bakr Al Baghdadi." As she recounted, she was then also raped by 11 other jihadists, claiming it was to fulfil the ideology described by Baghdadi. He also shared what the rapists said, "ISIS fighters told us, 'This is the rule of Abu Bakr al-Baghdadi and we must do it.' They said: 'Anyone who doesn't convert to Islam, we will kill the males and marry the girls. They are the spoils of war.'"
4. Sex Slave Price List:
Confirmed by a United Nations official, it has been revealed that the IS, led by Baghdadi, has released a 'Sex Slave Price List,' to be used as a reference for captured women and children. This list even includes a price for toddlers, with the price being highest for a captured slave who is one year old. The bidders include IS fighters and also rich Middle Easterners. The UN official Zainab Bangura, confirmed the authenticity of this sex slave price list, and said, "The girls get peddled like barrels of petrol. One girl can be sold and bought by five or six different men. Sometimes these fighters sell the girls back to their families for thousands of dollars of ransom."
As political experts explain how this unethical strategy of using rape is being used to create a warped bond amongst the soldiers who practice it, Bangura said about the IS, "They have a machinery, they have a program. They have a manual on how you treat these women. They have a marriage bureau which organizes all of these 'marriages' and the sale of women. They have a price list."
5. The 15 IS rape rules for owners of sex slaves
And the last yet the most bone-chilling IS sex offence, would be the shocking 'rape handbook' released by the militant group. Comprising of sickening rules on how to rape women captives, this set of rules does not follow true Islam in any way. To summarize the startling rape sex rules that IS fighters are encouraged to follow, here's a concise list
  If the female captive is owned by a father, his son cannot have intercourse with her and vice-versa. Moreover, intercourse with his wife's female captive is also not permissible
If a father had intercourse with his captive female and gave her away or sold her to his son, he is no longer permitted to have intercourse with her
If the owner of a female captive, who has a daughter suitable for intercourse, has sexual relations with the latter, he is not permitted to have intercourse with her mother and she is permanently off limits to him. Should he have intercourse with her mother then he is not permitted to have intercourse with her daughter and she is to be off-limits to him
The owner of two sisters is not allowed to have intercourse with both of them; rather he may only have intercourse with just one. The other sister is to be had by him, if he were to relinquish ownership of the first sister by selling her, giving her away or releasing her
It is not permissible for the owner of female captive to have intercourse with her until after she has had her menstrual cycle and has become "clean".
It is not permissible to have anal sex with a female captive
How Islamic is the Islamic State?
London-based Imam Ajmal Masroor firmly disapproves of the IS interpretation of Islam. He said, "The people of ISIS don't represent Islam at all. In fact, if anything, they are anti-Islam. They have hijacked Islam. They have denigrated Islam. They have desecrated it. In Islam taking anyone as captive, mistreating them using them as sex slaves, torturing them and killing them is totally prohibited. That's exactly what they have demonstrated. There is no room for any discussion on this. It's haram [forbidden], it's anti-Islam and it should be treated as such."
The IS is cunningly using sexual violence and rape as a way to gratify its fighters, which is as un-Islamic as it gets. Though Abu Bakr al-Baghdadi claims to be the 'Caliph' of Muslims all over the world, his gory sex crimes are disturbing indeed.
Share