Russia Now Spends How Much On Its Military?
Russia Now Spends How Much On Its Military?
In 2011, Russian President Vladimir Putin signified plans to spend more than 20 trillion rubles ($360 billion) on modernising its countries antiquated military equipment by 2025. In 2016 alone, Russia boosted its military spending to $69.2 billion, according to a new report from the Stockholm International Peace Research Institute (SIPRI). 
In 2016, the USA spent $611 billion
China spent $215 billion in the same period
Military spending made up 5.3 percent of Russia's economy in 2016, the largest proportion since 1991.
Global military spending increased to $1.7 trillion in 2016
Russia's deep economic crisis and collapse in the value of the ruble in 2015 led to Putin's big spending plans initially being interrupted. That year, Russia slipped behind Saudi Arabia and into fourth place in the ranking.
But now the Russian economy has turned a corner, apparently, the lengthy recession was replaced by growth in the final quarter of 2016. With military spending reaching 5.3 percent of the total economy, this is the largest share of production since Russia became independent in 1991.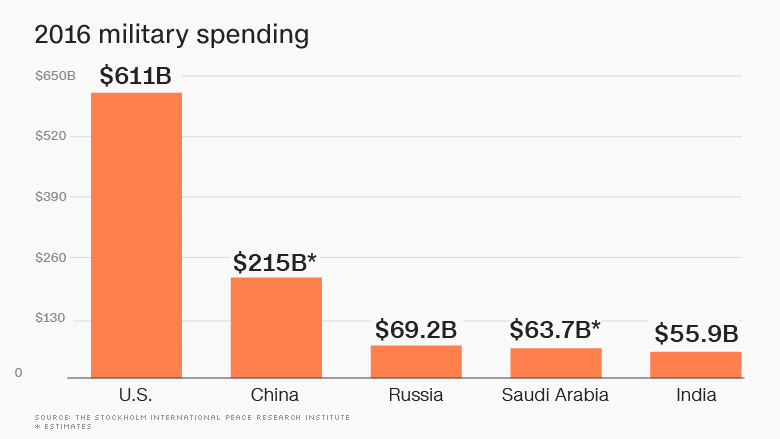 Resurgent Russia
Russia is still active in the conflict in Syria, with many military installations in the region. Russia annexed Crimea in 2014 that led to sanctions imposed by the US and European Union, and an increase in European military spending by 2.4%.
"The growth in spending by many countries in central Europe can be partly attributed to the perception of Russia posing a greater threat," said Siemon Wezeman, a senior researcher at SIPRI.
Russian Military Prepares for 2017 Victory Day Parade.
__________https://t.co/Hj2NFNnILF Original equipment from Russia. #VictoryDay #9May pic.twitter.com/nvaIUQaAxD

— Grey-shop.ru (@Greyshopru) May 3, 2017
[removed][removed]
Others
In the meanwhile, Saudi Arabia cut its military spending by $25.8 billion, falling to fourth in the rankings. Although they are engaged in a conflict in Yemen, SIPRI noted that the collapse in oil prices had led many oil producing nations, including the de facto OPEC leader, to cut military spending.
Unsurprisingly the USA remained the world's biggest military spender in 2016, increasing their expenditure by 1.7%, reaching $611 billion. This marked the first annual increase after five consecutive annual declines.
China was the runner up with $215 billion in outlays. Its 5.4% growth rate was much lower than in previous years, SIPRI said.
The Swedish think tank said that global military spending increased to $1.7 trillion in 2016. Outlays grew in Asia, Europe and North Africa, but fell in the Middle East and South America.
How much does Russia spend on military compared to European NATO memebers? https://t.co/RfH3VfcB8s pic.twitter.com/NOKP8ksdxf

— RFE/RL (@RFERL) April 30, 2017
[removed][removed]
Share