Promote More Humanity Via your Mobile Phone
Promote More Humanity Via your Mobile Phone
In September, UN Human Rights High Commissioner Zeid Ra'ad al-Hussein warned that right-winged politicians could threaten our common values of humanity in his speech in The Hague. Since then world wide protest took place against racism, against police brutality, against inhumane treatments of refugees and for more humanity.
Due to the international film festival Berlinale, Berlin is currently in the international spotlight. Many used those last view days to make statements against xenophobia or right winged populism like world renown actor Richard Gere.
Germany's social mobile operator goood together with PixelHELPER Foundation stood up to used this broad attention to show their longing for making humanity great again. The social mobile telephone operator supports numerous human rights organisations. With the help of the PixelHELPER foundation three different claims were shown at three famous places in Berlin, all asking to make the world a better place again.
The first was to be seen via lighting at Checkpoint Charlie, probably the most famous border crossing within Berlin from GDR-times. The projected claim was "More bridges, less walls". At the Topography of Terror goood demanded: "Make Humanity great again." The Brandenburger Tor was lit with the claim "Simply make the world a better place"
"Together with PixelHELPER we wanted to create attention: Every single person has it in his or her own hands to make the world a better place again – every day," says Claudia Winkler, co-founder of goood. "Via goood we want to show that everyone can shift society to being better, even if you only take small steps."
Since February 1st goood is out to conquer the German market and already has incredibly great responses both from (potential) customers as well as from prominent supporters such as Ernst von Weizsäcker, Co-President of the Club of Rome: "I like the innovative business idea and really hope that it will serve as an example for other areas of business. A part of the business volume is going to be referred to the community.
At the same time goood empowers the community to decide by themselves which cause they would like to support. I am of the opinion that this opens the chance for a social redistribution and promotes solidarity. Both is needed in our society. Everything that aims to make the world a better place is needed."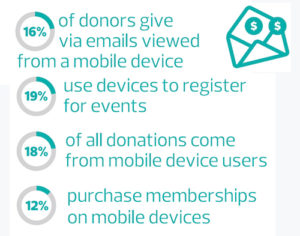 As per the graphic, the amount of donations given via mobile is relatively small, but growing.
Almost 80% of charity donations still take place offline.
38% of charities are unable to accept donations via text.
One in five charities don't have the facilities to accept online donations.
Here are 5 mobile apps that help you donate to charity easily:
Share the Meal
ShareTheMeal is an initiative of the United Nations World Food Programme. When you download the app you can tap to donate as little as $0.50 to provide a meal for a child.
Snap Donate
SnapDonate enables you to make quick one-off donations to your choice of charity even if you have no cash or are not in an internet zone. Snap Donate is a charity themselves and do not take any fees from the transaction. If the brand is not identified you can still use the in-app search tool to send donations to over 13000 charities.
Donate a Photo
The Donate a photo app capitalises on all those hundreds of photos we take by turning them into cash for good causes. At no cost to you. For every photo you share through Donate a Photo, Johnson & Johnson gives $1 to a good cause.
The app uploads your photos to become part of the Donate a Photo gallery. But don't worry, they will never be used to sell any products or for any other commercial purposes besides for the promotion of Donate a Photo.
Charity Miles
They help you raise money while being active, so it can help in more ways than one for those trying to keep fit. All you need to do is download the app and for every mile you walk, run or cycle Charity Miles donates money to your chosen charity, so long as you share your workout on social media.
Instead
A similar idea to Share the Meal, Instead connects your consumption with causes that need your need. Instead of having another coffee out, donate cash to a water project in Africa.
The app sets challenges for you suggesting ideas that could decrease your consumption, for example by brewing a coffee instead of buying. Then, every time you decide to brew instead of buy, you log it in the app and donate a pre-specified amount.
Photo: Light projections advertise more humanity below the famous Brandenburg Gate in Berlin
Share