NOW ISRAELI DEFENSE MINISTER RESIGNS IN PROTEST
NOW ISRAELI DEFENSE MINISTER RESIGNS IN PROTEST
Moshe Ya'alon, the moderate defense minister of Israel since 2013, has resigned, citing severe disagreements with Prime Minister Netanyahu about the political fundament of the policy of the State of Israel and the soul of the first Jewish state.
Which is best described by famous Hillel the Elder in one sentence: "That which is hateful to you, do not do to your fellow. That is the whole Torah; the rest is the explanation; go and learn!" (Sabbat 31a)
GLOBALO documents his bitter resignation letter below, in which he wrote:
"I FOUGHT WITH ALL MY MIGHT AGAINST THE EFFECTS OF EXTREMISM, VIOLENCE AND RACISM IN ISRAELI SOCIETY."
This shows again the main problem of the narrow-minded and nationalistic Netanyahu government, which is missing a clear long-term peace strategy as a combination of hawk and dove, uzi and olive branch, as described by GLOBALO founder Hubertus Hoffmann after a meeting with President Shimon Peres in Jerusalem: "In the next one hundred years, Israel will only be able to survive in its historic location, surrounded by a numerically superior enemy rich with petrodollars, frustrated Palestinians and radical fighter, when it places reconciliation with its Arab neighbors as "conditio sine qua non" of a genuine Israeli peace policy, and supports reconciliation with just as much energy, imagination, patience, and money as the necessary but insufficient military operations against terrorists."
Netanyahu now wants Avigdor Lieberman as his defense minister. A radical settler from the West Bank with no senior military know-how in control of the IDF, which controls the West Bank.
Both want no peace-talks and a Great Israel including the West Bank, dispelling as many frustrated Palestinians as possible with many small discriminations, and more and more Jewish settlements there and in Jerusalem. Contrary to international law and the logic of peace-making, as learned in Europe after two bitter wars of former arch enemies as well as by the UK in Northern Ireland. Many in the Israel forces and intelligence services see this nationalistic policy of Netanyahu as the number two threat for the survival of Israel.
The beginning of the end of an open, pluralistic and tolerant society and the true art of peacemaking.
Is Israel now following the dead-end-road way of South Africa and copy-cat the failed, anti-democratic and anti-UN-human-rights Apartheit ?
Moshe Ya'aln  has been outspoken about "extremist" views taking over the government of Israel, and he has chose to step aside for the time being. But he has not sworn off public office, as he said, "in the future I will return to compete for the national leadership of Israel".
Prime Minister Netanyahu is looking to replace Ya'alon with Avigdor Lieberman, who is a well-known hardliner who is closely aligned with the Prime Minister. His appointment has not been confirmed, but given the leanings of the government right now, a confirmation is likely. Avigdor Lieberman is a true story of coming from the bottom to the top: he started his career as a nightclub bouncer. He and his family immigrated to Israel from the Soviet Union in 1978, and Avigdor served in the IDF before going to Hebrew University of Jerusalem with a major in International Relations and Political Science, and this is where he worked as a nightclub bouncer. He was a member of the Likud party until he resigned from the party in 1997 citing concessions made by Netanyahu with the Palestinians in the Wye River Memorandum. He then formed the Yisrael Beiteinu party: a party for Soviet Jews who were hard-line against the Palestinians. His party has always been very vocally against any deals with the Palestinians, and he has resigned in the past due to concessions.
This marks a pretty big shift in Israel, as Ya'alon was seen as a very center-left member of the cabinet that helped to balance the direction of the leadership. With his replacement there can be no doubt that the government is leaning more toward the right. After a tough election, coming right down to the wire (a coalition was formed just 2 hours before the deadline), this abrupt positional change came as a surprise to many. The world eagerly awaits to see the new policies that will be in place for Israel. But with ISIS at the gates, the Prime Minister seems to want to make sure that everyone is on the same page in Israel. But are they? Reactions seem to be mixed around the world:
https://twitter.com/BBC_WHYS/status/733704104309075968
https://twitter.com/haaretzcom/status/733571917102211072
https://twitter.com/JonathanCohn/status/732960894653730816
https://twitter.com/starofdavid48/status/734289518765826050
Moshe Ya'alon announced his resignation in front of cameras, as well as on Twitter and facebook:
https://twitter.com/bogie_yaalon/status/733538252125147136
The tweet says: "Message to Israel that following its recent developments, and lack of trust, I am resigning from the Government and Knesset, and taking a break from political life."

Who was Moshe Ya'alon?
Moved from Ukraine in 1925
Served in IDF from 1968-1971
Called up for 6 day war in 1973, 1st unit into Egypt and the Suez Canal
Rejoined IDF as a career soldier, and became a commander of Paratroopers in 1978
Wounded in 1982 Lebanon Hezbollah War
After consistent promotions, he became a Major General and head of Military Intelligence in 1995
2002 was Chief of Staff for IDF
Appointed Minister of Defense in 2013
He posted his announcement on Facebook, which is translated below: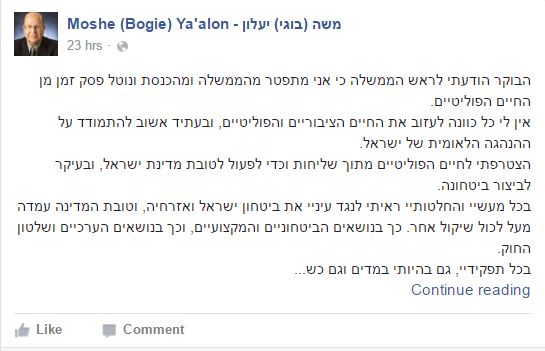 This morning I informed the Prime Minister that I am resigning from the government and the Knesset and taking time out from political life.
I have no intention of leaving the public and political life, and in the future I will return to compete for the national leadership of Israel.
I joined the political life with the mission to work for the State of Israel, and especially to reinforce security.
All my actions and my decisions, I saw before me the security of Israel and its citizens, and the welfare state was above all other considerations. These security issues, professional, and ethical issues and the rule of law.
All my duties, I was still in uniform and as Minister, I have seen a mission, and I was not willing to sacrifice national needs and the security of Israeli citizens, in favor of political considerations or personal interests.
I worked in harmony and in a serious and substantive and appreciation with the Prime Minister, for a long time, especially during "Operation Enduring Rock", and I thank him.
But unfortunately I found myself recently in serious ethical disputes and professional issues with the Prime Minister, several ministers and several members of the Knesset.
I fought with all my might against the effects of extremism, violence and racism in Israeli society, threaten the strength and also permeate the army and have been hitting it.
I struggled with all my might attempt to harm the Supreme Court and the judge of Israel. Processes that result seriously damages the rule of law and could be disastrous for our country.
In general, Israeli society is a healthy society, and the majority of her seeks a Jewish state, a democratic and liberal one. The State receives any person as such, without difference of religion, race, gender, ethnic origin or sexual orientation.
A Country should be patient and tolerant of the weak and minorities in it, it is our duty not to incite them into battle. A country struggling with the bitter exclusion of women, and sexual harassment against them.
But unfortunately extremism took over in Israel, and the Likud, extremists and dangerous, which shake the house and threatening to hurt it.
This is not the Likud party I joined – Likud of Ze'ev Jabotinsky and Menachem Begin – and it is fitting that the vast majority of Likud voters, public sane and responsible state, will understand the depth of the crisis and the impassioned spirit takes over the movement.
I hope the general public, left and right, to understand the serious implications of the takeover of the radical minority over the center, and will fight these phenomena. It's in our souls. It is the soul of the country.
Unfortunately, the country's top politicians have chosen the way of taxation and separation of parts of society, instead of one, and a friend.
It is unacceptable to us for reasons we divided the cynicism and desire for control, and I expressed my opinion not on one subject, but out of genuine concern for the future of Israeli society and the future of generations to come.
The role of leadership is to lead in value, according to a compass and sometimes against the wind is blowing. Chart a path and not get carried away and be drawn into electoral reasons and following the opinion polls, and do not manage to agree to discourse is reckless and irresponsible.
I have no regrets whatsoever about my positions, both professionalism and ethical, even if it brought an end to my terms. I am satisfied with my way, and will not stray from it.
I fear for the future of Israel, and I will continue this fight even further, because we have no other country.
All along, even in difficult times, I steered the defense of Israeli determination, responsibility, discretion, and reverence, with the understanding of the lives of both soldiers and civilians.
Despite the turbulence in the Middle East, to participate in "Enduring Rock" and a wave of Palestinian terrorism fading thanks to wise and belligerent behavior – Israel today enjoys relatively peaceful borders. An unprecedented military might deterrent to our enemies, and common interests with other countries in the region, but this is also the result of the management and conduct of a level-headed and responsible security system.
I would like to thank former Chief of Staff Lt. Gen. Benny Gantz and the incumbent Chief of Staff Lt. Gen. Gadi Eizenkot, for working. For me it was a privilege to work with you, with army generals and other commanders various levels.
I have no doubt that you know how to continue to lead the IDF responsibility and with discretion, and curb side issues.
Soldiers of the IDF in the air, land and sea combat fighters and supporters, regular and reserve, made me very proud. You are the best we have, and Israel can be proud of and confident in you.
I would like to thank the more creative and defense industries with flying, and employees of the Defense Ministry, headed by CEO Dan Harel, a publicly devoted and committed person, who does his job quietly, but his contribution to Israel's security is immeasurable.
I would like to thank the leaders and members of other security organizations, headed by Mossad and Shin Bet, for their fruitful cooperation for the security of Israel.
At this time I can remember the soldiers who fell during my tenure as defense minister. Falls ongoing operations, the wave of terrorism and make "Enduring Rock" heroes who left the fray alongside their friends returning from the battlefield to defend the people. I remember them, and hugs bereaved families that are in front of me all the time.
I remember the wounded soldiers from the operation, the ongoing activity and a wave of terror, the struggle to return to a life of doing and creating exciting and thrilling things  all the time.
I remember the martyrs and wounded soldiers of all ages and their families, including my comrades, my subordinates and commanders.
I remember the day the Sergeant Oron Shaul and vice Hadar Goldin blessed memory, we are committed to respond to Israel; Israeli citizens held in the Gaza Strip; And other missing soldiers.
I would like to thank the masses of Israeli citizens who applied moving words of encouragement. You give us messengers of the public, the strength to fight for Israel's image.
Share