Israeli PM Netanyahu Questioned Over Corruption
Israeli PM Netanyahu Questioned Over Corruption
Israeli police are questioning Prime Minister Benjamin Netanyahu over a new pair of corruption allegations, with the PM insisting they are entirely legal.
Fresh allegations surround Netanyahu follow a year of scandal and controversy in Israel's corridors of power.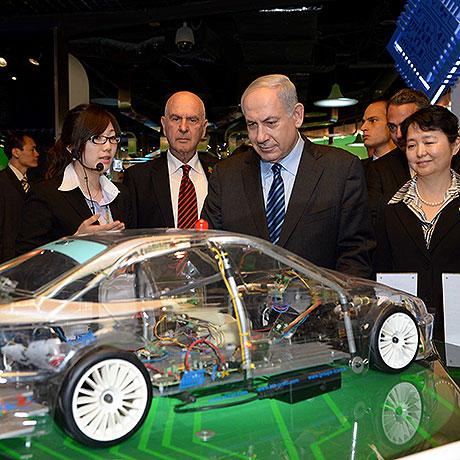 Netanyahu suspected of receiving favors and gifts from a number of wealthy business-people, cosmetics tycoon  Ronald Lauder among them.
Will Israel head to elections? Who could possibly replace him?
2017 started with a familiar scene for Israelis. As they did so often in 2016,  TV cameras were on hand as police investigators entered the home of Prime Minister Benjamin Netanyahu on Monday.
Already facing calls for indictment following his role in a series of bribery and fraud allegations that dot 2016 known as 'Bibitours', Bibi himself took to Facebook to refute accusations and attack the press.
"Bibitours — nothing! A claim of illicit campaign funding — nothing! A claim of skewing primary results — nothing! A claim of receiving gifts abroad and funding for flights — nothing!"
"Years of daily persecution against me and my family have been confirmed yesterday as having been nothing," Netanyahu added.
"Will someone in the media apologize for the thousands of headlines, hours of broadcasting 'investigative journalism at its best' that have turned out to be total nonsense? Certainly not [Channel 10 reporter Raviv] Drucker."
A Year to Forget for Israeli Politics
Surprisingly, the one bright spot of  the year for embattled Netanhayu came in the form of a Trump victory in the US presidential elections.
Citing Trump's support for the Jewish state and tough attitude towards a resurgent Iran, the Isreali PM joined the likes of Vladimir Putin and Marine Le Pen in offering his warm support to the polarizing POTUS.
'Bibitours' and Corruption at the heart of Israeli Government
There were many developments in the investigation of Israeli politicians in 2016, here are some of the most sensational…
In June, Netanyahu acknowledged the receipt of funds from French tycoon Arnaud Mimran, sentenced to eight years in jail over a $315 million scam involving carbon emission credits in France.
In the "Bibitours" case, an investigative journalist exposed 10 years of the Netanyahu family's overseas travel expenses. Included were flights, hotels and meals paid for by wealthy associates and foreign businessmen. The report obtained copies of receipts and a list of potential donors to Bibi's Likud party in Netanyahu's own handwriting.
Allegations surfaced that Netanyahu spent public funds on garden furniture and electrical repairs, among other things, at their private holiday home in resort town Caesarea.
Wife Sara Netanyahu is also accused of embezzling cash from deposit refunds between 2009 and 2013.
In February, former Prime Minister Ehud Olmert began a 19-month prison sentence for his role in systematic bribery and obstruction of justice during his tenure as mayor of Jerusalem.
Will Bibi be Forced to Resign?
In the murky world of a potential political indictment, very few things are certain.
Merely being investigated by police would not force a prime minister to leave office, while the process of securing and  enacting a high-profile indictment can take a long, long time.
In the case of jailed former PM Ehud Olmert, it took years more before any verdict came after that.
Netanyahu could well serve out his term despite being under investigation, but pressure is building within his country to resolve the series of scandals in a quick and meaningful way.
How effectively he could run the country while under police investigation is a real doubt during a turbulent time in US, European and Middle Eastern politics.
With Israel potentially at the center of a new global divide between Russia and the US, there will be urgent demands on his time that the distraction of a corruption case would surely render impossible.
Who Has the Best Chance of becoming Israel's New Prime Minister?
In the event of an election, a majority pundits and opinion polls point towards Yesh Atid leader Yair Lapid.
A December 31 public opinion poll by Israel's Channel 10 news network showed that, if Knesset elections were held now, the opposition Yesh Atid party, headed by Mr Lapid, would become the largest in parliament, with 27 of the Knesset's 120 seats.
Yesh Atid enjoys strong support among the secular middle class in Israel and these allegations will no doubt boost their credentials as as a 'cleaner' choice to lead Israel.
But the three-time elected Netanyahu still enjoys lots of support from within Israel and Republican American groups and, with no quick resolution in sight, we can certainly predict a few more twists in this tale and a fightback from the popular prime minister.
How he responds to the latest developments have the potential to decide what kind of 2017 Israel is set to face.
Image credit: Flickr
Share