IF THE FACIST WINS, I'M MOVING TO CANADA!
IF THE FACIST WINS, I'M MOVING TO CANADA!
This week on Google searches for "how can I move to Canada' have spiked to a phenomenal 1500%. The highest Google has seen in a long time. Simon Roger's, the company's data editor tweeted after the results of Super Tuesday saying, "Searches for 'how can I move to Canada' on Google have spiked +350% in the past four hours".
The peak in relation was at 05:32 GMT, about 20 minutes after Mr. Rogers' tweet. Analysis of Google's own data showed that interest took reached its peak shortly before his tweet. After, it was followed by a tweet informing the searches had escalated to more than 1000% which he referred to as "dynamic changing data." The surge was brought on by the victory of republican presidential candidate Mr. Trump on Super Tuesday. "Trump, whether you love him or hate him, is one of the great deal makers in the world. If he was in charge of the White House, at the very least I would pay good money to see him in a room with Vladimir Putin striking a deal," he said. From 2004, when President George W. Bush made second term, searches for the keywords "moving to Canada" and other combinations have spiked in the US. It transpired when Barack Obama was elected in 2008 and again when he won in 2012. The link to the "Apply to immigrate to Canada" page has been tweeted more than 29,000 times in 24 hours after the elections. Toronto City councilor Norm Kelly's help to direct people to the Canadian Immigration Service's website has reaped over 32,000 retweets, signifying the interest attained on social media…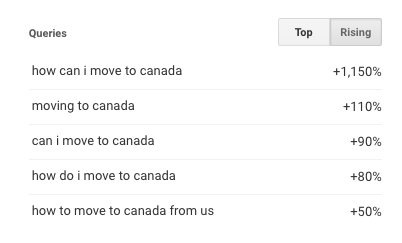 Why do Americans want to move to Canada?
Many Americans were left to wonder about their future and the security of their nation after the results that ceremoniously crowned Trump the winner. The concern is simple – how can they leave and to where if he should actually win presidency. Although Trump has proven prevalent with a large number of Republican voters, he has also made controversial comments about prohibiting Muslim refugees, constructing a wall to stop immigrants from Mexico, and his aversion to obey to the traditional conservative orthodox, also sparked concern among other members of the GOP, not to comment on the Democrats. Trump phobia, has been the key marketing strategy for the Canadian island of Cape Breton since last month. It has been encouraging Americans to move there, if "The Donald" becomes leader of the free world. The island promotes itself as a safe haven, "a place where women can get abortions, Muslim people can roam freely, and the only 'walls' are holding up the roofs of our extremely affordable houses."
If Donald Trump shall be the president of your country then it's about time you got the hell out of your country and Cape Breton Island advertises itself for just that. The New York Daily published an article titled, "The complete guide to fleeing President Donald Trump's America." In which it lists a number of destinations Americans could immigrate to, such as Ecuador, Mexico and Canada."
"Americans can immigrate to Canada, provided they meet the qualifications," said Faith St-John of the Canada Immigration, Refugees and Citizenship Communications office. "There are a number of avenues that applicants for permanent residence can consider in order to immigrate to Canada."
The mere thought of President Trump taking the oath of office on Jan. 20, 2017, has already led to threats from US citizens that they would leave our red, white and blue behind if The Donald reaches the White House," the article states. While the overlook of a Trump seems exceptional, every election over the last ten years has had several Americans considering moving north of the border. During the recorded 24 hours, most interest came from Massachusetts, where both the leading candidates, Hillary Clinton and Donald Trump won. The term "moving to Canada" in the search engine spiked on Google in late June, after the businessman officially joined the fight for the Republican Party nomination. The searches have been in advance capacity in the past month, including a spike on Tuesday night as Trump won nominating contests in seven states. Three of which are Georgia, Virginia and Massachusetts happen to be among the topmost sources of immigrating to Canada queries. The solemn bad is Trump's already got a foot in Canada he owns the Trump International Hotel & Tower in Toronto. Which is footsteps away from down town and offers "classic American cuisine" to emigrants that seek it.
Immigration to Canada likely to soar
Unexpectedly, the immigration section of Government of Canada website was also experiencing delays Wednesday. In a press release, the immigration office contradicted any claims that it was due to the Trump movement.
Canadian lawmakers were up in action, with Toronto City Councilor Norm Kelly posting a link to a page detailing how to immigrate to Americans. The post was re-tweeted 37,000 times. Some sympathetic Canadians have even offered to take in those bolting from US.to make it more appealing a website created by radio host Rob Calabrese also shares the splendors of his native Cape Breton Island, in the maritime province of Nova Scotia. "If you have a baby, you get paid leave for almost a year," Calabrese said. "If you cut your hand, you can go to the doctor and get stitched up for free."
Immigration lawyers in Vancouver said that their phones were ringing off the hook and their inboxes started filling up with requests regarding how to move to Canada after Donald Trump's win on Super Tuesday.
Trump has said the Long ignored and uttered derogatory names like "America's hat," Canada. Has that vast expanse of snow and maple trees become the Promised Land for US (Americans)?
Share