Globalo Names Republican Frontrunner
Globalo Names Republican Frontrunner
NBC came out yesterday with a new poll suggesting that Ben Carson is now the frontrunner in the race for the Republican nomination.
With support from 29 percent of GOP primary voters, he's six points ahead of Donald Trump and leads Marco Rubio by 18 points. But does this really matter? Does anybody really think that Carson, or Trump for that matter, is going to end up getting the nomination? And if not, why are we constantly talking abut them?
Yes, there is a clear front runner, but his name isn't Trump or Carson, it's Rubio.
Despite his lower poll numbers, Rubio is seen as the most likely candidate by far to make it to the general elections by those who put their money where their mouth is. And we don't mean deep pocketed donors, although Rubio recently brought in some of those as well – We mean gamblers.
Looking at betting markets, Rubio is the clear favorite to win the nomination, with odds at 2,37:1 (meaning a $1 bet on Rubio will make you only $2 and 37 cents), while Trump comes in a distant second with odds of 4:1.
This means that the implied probability of Rubio taking the lead come spring 2016 is currently at 42%, while a Trump win is only a 25% probability. Carson's chances? A meagre 13,5%.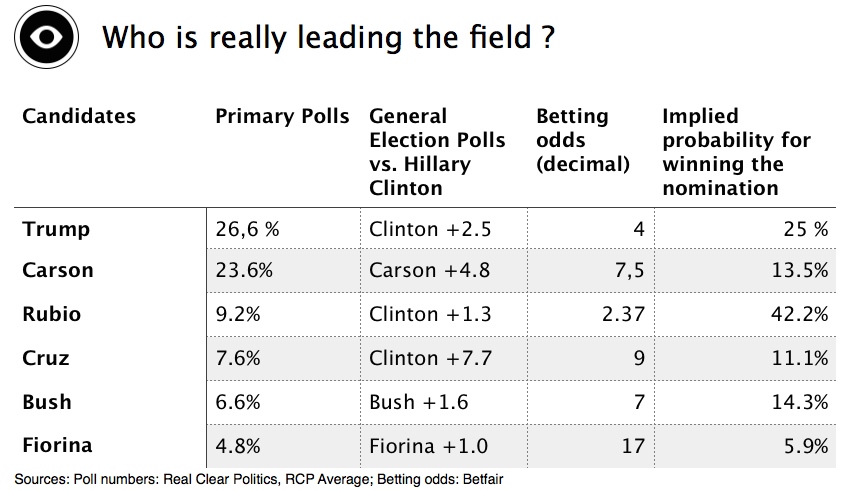 Those are not absolute numbers of course. Anybody with even rudimentary math skills can see that the probability of all of the candidates doesn't add up to 100%, which is partly due to the fact that betting platforms oversell all candidates to make a profit. They also assign higher than realistic  probabilities to off-chance candidates like Carly Fiorina to give their customers an incentive to bet on them (and lose).
But betting markets have outperformed polls in previous elections and have proven to be a more reliable indicator regrading candidate's chances.
Mainly this is the case because they do not ask the question of who people like the most, but who they really believe will win. Also, the monetary incentive increases the capacity to make rational decisions.
But how can the polls be so wrong?
Well one of the main reasons is that the Republican establishment has not yet made a decision on which candidate they should back. With the Bush campaign in dire straits it looks as if we are going to see some consolidation on that front soon. At some point they will have to decide on a candidate that is also acceptable to the party's grass roots. The betting markets indicate that most people invested in the race with their money seem to believe that this compromise will ultimately be Marco Rubio.
What could still derail Rubio's Nomination?
Two Words: Donald Trump.
While we have seen fringe candidates spike early in the campaign season many times before, none have been as persistent, and as well financed as the Donald. So far it seems unlikely that one man can take on the leadership of the GOP, but as the odds indicate, it is not impossible. So far Trump has collected no relevant endorsements. Should this change, it could be an indicator that his poll numbers are not a fluke. Also, as  Harry Enten of  FiveThirtyEight has noted, "if Donald Trump wins the Iowa caucus all bets are off!"
Share