German Police Debunk One of Breitbart's Erroneous Stories
German Police Debunk One of Breitbart's Erroneous Stories
German politicians and media have warned citizens that an election year spike in fake news might be on the horizon. The rightwing website Breitbart – which has shot to considerable fame after Trump appointed its CEO Steve Bannon as his chief strategist – came out with a fake story that a mob chanting "Allahu Akbar" had set fire to a church in the city of Dortmund on New Year's Eve.
Breitbart took center stage in the fake news scandal during and after the U.S. election cycle, here they are again but in Europe.
Claims of the oldest church being set alight by amassing Muslims chanting "Allahu Akbar" debunked by the Dortmund police themselves.
Breitbart has since absorbed widespread criticism of their manipulation of events.
Fake news appears to be rearing its ugly head in Germany ahead of this year's elections.
Tens of thousands clicked and shared the Breitbart.com story with the headline "Revealed: 1,000-man mob attack police, set Germany's oldest church alight on New Year's Eve".
It said the men had "chanted Allahu Akbar (God is greatest), launched fireworks at police and set fire to a historic church", while also gathering "around the flag of al-Qaida and Islamic State collaborators the Free Syrian Army."
The Breitbart report was shared widely on social media, but the city's police confirmed that no "extraordinary or spectacular" incidents had spoiled the festivities.
Ruhr Nachrichten, the local newspaper, has said that elements of its own online reporting had been taken by Breitbart and manipulated to produce "fake news, hate and propaganda".
The justice minister of Hesse state, Eva Kühne-Hörmann said, "The danger is that these stories spread with incredible speed and take on lives of their own".
"We shook our heads in disbelief when we saw how this operation was politicised [by Breitbart]," said Dortmund police spokesman Gunnar Wortmann.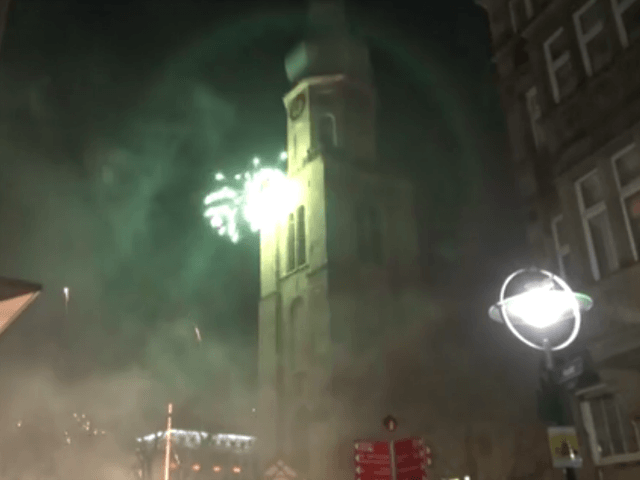 The truth
Ruhr Nachrichten went on to say that Breitbart had combined and exaggerated multiple unconnected incidents to paint a picture of chaos with foreigners promoting terrorism being the main perpetrators.
Stray fireworks did indeed start a small blaze, but only on the scaffolding netting on the church, and this was put out after about 12 minutes. The roof was not on fire, and the church is not Germany's oldest.
Dortmund police handled 185 missions that night, much fewer than the 421 last year. The force's leader described the night as "rather average to quiet".
This controversy comes on the heels of further divided opinion in Germany on Merkel's liberal stance toward refugees and a rightwing movement that fears Islam, opposes immigration and does not trust the media or government.
"Fake fake news"
Breitbart has since fired back saying that the media are trying to "sow division" with a "dishonest attack" on their original article. Although they concede that they got the age of the church wrong, they attest to the face that there were 1,000 mostly male, mostly non-native German people gathered with repeated chants of "Allahu Akbar".
They say the "fake news" claims rely only on the "size of the mob in question, the religion of the men involved, the age of the church involved, and the size of the fire caused." Fairly major points.
Video of the scenes can be seen here:
<iframe src="https://www.youtube.com/embed/hqQsnMipW4Q" width="560" height="315" frameborder="0" allowfullscreen="allowfullscreen"></iframe>
While they are correct in their reporting as far as to say the Church was on fire, the means by which Breitbart claim it was, and the intent behind it, are questionable.
Of course, in today's divided world, some will never be convinced of the other side.
If you're sick and tired of the mainstream media pretending everything's okay in Germany PLEASE, SHARE: #Dortmundhttps://t.co/yqEmIlSbLd

— Oliver JJ Lane (@oliver_lane) January 8, 2017
[removed][removed]
Trouble ahead as Germany's elections approach
The Frankfurter Allgemeine Zeitung daily said Breitbart had used exaggerations and factual errors to create "an image of chaotic civil war-like conditions in Germany, caused by Islamist aggressors". It said that this kind of story "may be a foretaste" in what is to come before parliamentary elections which are expected in September.
Some websites spread "misinformation and distortion in order to diminish trust in established institutions".
Justice minister Heiko Maas cautioned in mid-December that Germany would use its laws against deliberate disinformation, and that freedom of expression did not protect "slander and defamation".
The top selling daily newspaper, Bild, is also predicting trouble warning that Breitbart is planning to launch German and French language websites and could seek to "aggravate the tense political climate in Germany".
Share