DID PUTIN OK NUCLEAR- KILL OF DISSIDENT IN LONDON?
DID PUTIN OK NUCLEAR- KILL OF DISSIDENT IN LONDON?
Forget about James Bond movies.
Just get involved into the Alexander Litvinenko (pictures) case.
This is the real hot stuff. With everything you know from 007.
Was this the first state-sponsored nuclear terror act –  in London, from Russia with hate?
You can read below the fresh script for this agent and action thriller of 330 pages you can read below.
Was even Russian President Putin involved, authorizing the killing of the former Russian spy slowly with radioactive polonium 210, via his loyal Russian secret service FSB (former KGB) in 2006?
An act of revenge for a traitor, a double-agent and noisy dissident?
Putin had met the victim once – like him a secret agent – when he was director of the KGB in 1998.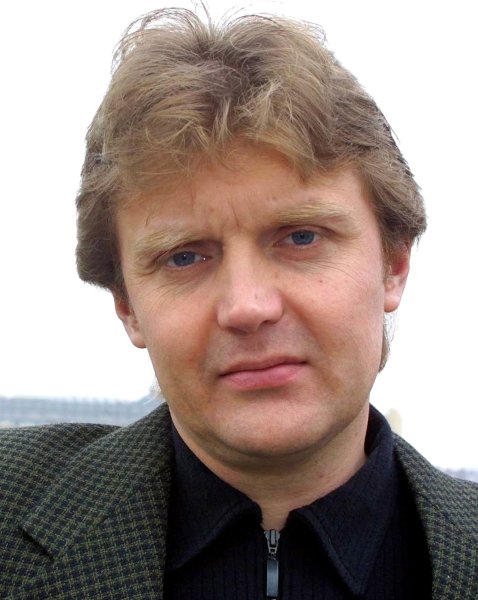 In the British capital, judge Sir Robert Owen published a 330-pages report with astonishing findings and arguments.
He said: "Taking full account of all the evidence and analysis available to me I find that the FSB operation to kill Litvinenko was probably approved by (FSB director) Mr Patrushev (see picture below with the president) and also by President Putin." Mr Putin is likely to have approved the poisoning of Mr Litvinenko with polonium-210 in part due to personal "antagonism between the pair."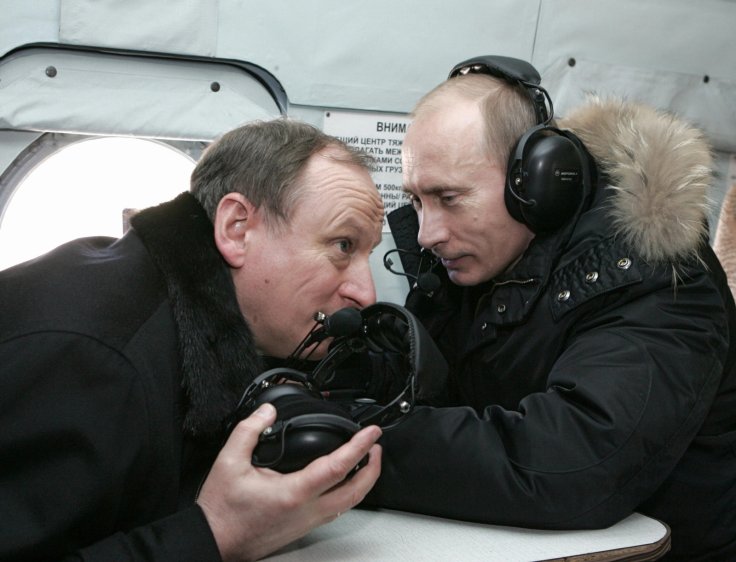 The logic of the judge is crystal clear: the FSB would have never dared to kill a Russian ex-spy in London with radioactive poison without the approval of the Russian president, who was personally involved in the feud. If the FSB rather than gangsters were involved in the attack, Putin must have been in the background. The polonium 210 used as poison could only come from state-owned and well-controlled nuclear reactors.
The former Russian spy had fled to Britain where he became a fierce critic of Mr Putin. Sir Robert said Mr Litvinenko's work for British intelligence agencies, his criticism of the FSB and Mr Putin, and his association with other Russian dissidents were possible motives for his killing.
He added: There was "undoubtedly a personal dimension to the antagonism" between Mr Putin and Mr Litvinenko. "I am satisfied that in general terms, members of the Putin administration, including the president himself and the FSB, had motives for taking action against Mr Litvinenko, including killing him, in late 2006." The use of polonium 210 was "at the very least a strong indicator of state involvement as it had to be made in a nuclear reactor," the report said. His slow death was "to send a message to others".
Most importantly: he did not follow the orders of the FSB and revealed a top secret operation against Russian businessman Berozovsky, who lived in London as well, and later died too, according to number 3:41 in the report:
"The most important, of these three operations related to Mr Berezovsky. In legal documents that he filed in Russia in 1998, Mr Litvinenko was very clear about what he had been told to do on this occasion. Referring to "the order to assassinate B.A. Berezovsky", Mr Litvinenko stated: "I was instructed by A.P. Kamyshnikov to physically exterminate Berezovsky and considered his words an order. I disobeyed the order only because it was an illegal order."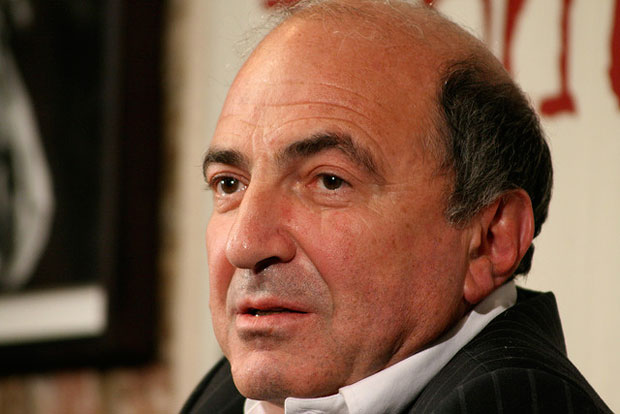 Boris Berezovsky (picture) was found dead at his home, Titness Park, at Sunninghill, near Ascot in Berkshire, United Kingdom, on March 23 2013. A post-mortem examination found that his death was consistent with hanging and that there were no signs of a violent struggle. However the coroner at the inquest into Berezovsky's death later recorded an open verdict.
The Guardian reported on March 27 2014: "Painstaking inquiries by detectives and forensic scientists unearthed no evidence that the Russian oligarch Boris Berezovsky was murdered."
Microscopic tests of the businessman's skin found no sign of any restraint or defence injuries, while toxicology tests found no trace of any poisons or unexpected substances in his blood or tissues.
A length of his favorite black cashmere scarf was found around his neck and a second length was tied around a shower rail above his head.
Forensic scientist Dr Raymond Fysh said that detailed examination of the tissues of Berezovsky's neck found no sign that he had been throttled before the scarf was put in place, nor were any puncture marks found on his body. He ruled out murder.
Better organized than in 2006? A perfect murder nevertheless, as friends of the oligarch speculate? But BB had lost a very expensive legal battle, was forced to sell his home in London, and divorced too.
His security advisor Sergei Sokolov claimed his former boss had gathered 'compromising material' as part of his plan to return to Russia. "I knew that Boris was in close relations with MI6, Mossad and the CIA.When he became dangerous for their recruited residents such as Russian politicians and oligarchs, the Western secret services decided to get rid of him. Berezovsky's murder was prepared for several months. It was a brilliant operation by the secret services. You decide: Berezovsky had round the clock security, CCTV cameras around the house. A fly would not make it. And on the day of his death all the security guards vanished, CCTV cameras were switched off for some reason, although they are placed every 100 meters."
In the Mayfair hotel in London November 2006 someone put the radioactive substance into the tea of the 43 years old dissident Litvinenko, who died three weeks later in hospital (picture below).His only guests at the deadly tea party: former FSB agents Andrei Lugovoi and Dmitri Kovtun.
The murderers were the two Russian men, the report claims. Andrei Lugovoi and Dmitry Kovtun deliberately poisoned Mr Litvinenko. Both were "probably acting under the direction of Moscow's FSB intelligence service." They both deny killing him.
Polonium 210 is an unusual substance.
Some say, his killing was a demonstrative act, designed to send a clear (nuclear) message to all dissident and former spies who dare to oppose the Russian state and the president.
Other experts speculate that the killing was meant to be the perfect crime. Polonium is virtually undetectable after a while. The British police only found out at the very last moment.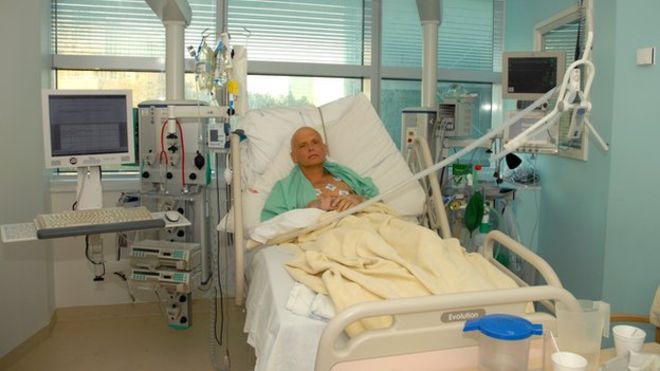 International arrest warrants against both Russians are in place.
The UK has now imposed asset freezes. U.K. Home Secretary Theresa May said his murder was "a blatant and unacceptable breach of international law." Prime Minister David Cameron will also raise the findings with President Putin at "the next available opportunity." Downing Street said the report's conclusions were extremely disturbing. "It is not the way for any state, let alone a permanent member of the UN Security Council, to behave."
Prime Minister David Cameron said the 'appalling' findings of the report confirmed what ministers had believed since 2007 – that the Kremlin had ordered an assassination on the streets of London. He said the necessary relationship between Britain and Russia would be continued with "clear eyes and a very cold heart".
Mr Litvinenko's widow Marina welcomed the report, calling for sanctions to be imposed on Russia and a travel ban on Mr Putin. "The words my husband spoke on his deathbed when he accused Mr Putin have been proved by an English court." She urged the UK government to expel all Russian intelligence operatives and impose economic sanctions on Moscow.
The Russians deny everything.
A spokesman for President Putin told the report was "an example of subtle British humor that would do nothing but poison bilateral relations."
The Russian Foreign Ministry said: "We regret that this purely criminal case was politicised and has overshadowed the general atmosphere of bilateral relations."
Mr Lugovoi, who is now a politician in Russia, said the accusations against him were "absurd". "As we expected, there were no surprises. The results of the investigation made public today yet again confirm London's anti-Russian position, its blinkeredness and the unwillingness of the English to establish the true reason for Litvinenko's death."
Mr Kovtun, now a businessman in Russia, said he would not comment on the report until he got more information about its contents.
Share