Americans, learn what Pope Francis says about Islam!
Americans, learn what Pope Francis says about Islam!
Is 'Islam' evil, like many supporters of Donald Trump think?
Or is Islam NOT IS (ISIL, Deash) and terror but peaceful, like the majority of 1,7 billion Muslims believe?
During the ISIS attack on a Catholic Church in France last week, the 85 year old priest Father Jacques Hamel was murdered and four were taken hostage. This represents their first attack on a Christian church in the West. Christians and Muslims came together in the memorial service- united in France.
American Christians should now look to Rome and what wise Pope Francis tells them.
Now more than ever we should remember the position of Pope Francis on Islam, so we do not forget to be tolerant and understanding.
---
Most recently on July 31st, 2016,  on a visit to Poland, the Pope reiterated his position on Islam to Le Figaro, "If I speak of Islamic violence, I must speak of Catholic violence….I think it is not right to identify Islam with violence, it is not fair and it's not true. I had a long dialogue with the grand imam of Al-Azhar University and I know what they think. They seek peace."
Known for his interfaith dialogue, the Pope's comments are still consistent with his usual platform of peace between religions and peoples.
Back in May, Pope Francis spoke with French Catholic newspaper La Croix, and in the interview he revealed his views on Islam, while drawing parallels between Christianity and Islam to encourage acceptance. 
Pope Francis prescribes a strategy for tolerance and peaceful coexistence in two main forms: religious freedom and integration.

---
On religious freedom:
Francis' views on religion's role in society and government are consistent with the idea of separation of church and state. He cites historical precedent, saying that "States must be secular. Confessional states end badly. That goes against the grain of History. I believe that a version of laicity accompanied by a solid law guaranteeing religious freedom offers a framework for going forward."
Along with basic laws protecting religious freedom, he says that Muslim women should be allowed to wear a veil just as Catholic women should be allowed to wear a cross, as self-expression is key to feeling like a part of society. Religions are more than subcultures, they are complete cultures in their own right and should be upheld as such.
"People must be free to profess their faith at the heart of their own culture not merely at its margins."
On integration:
Pope Francis goes beyond promoting mere tolerance. Acceptance and true integration are the prescription for peace.
In Francis' apostolic exhortation "The Joy of the Gospel," there is a significant passage on the extremist violence our modern world is facing: "Faced with disconcerting episodes of violent fundamentalism, our respect for true followers of Islam should lead us to avoid hateful generalizations, for authentic Islam and the proper reading of the Quran are opposed to every form of violence."
The Pope denies any connection between Islamic extremism and true Islam, implying that the Quran is being misread by extremists. Fear of Islam in Europe is unfounded, as true Islam is peaceful in its nature and teachings. Islamophobia is just misguided fear of Islamic State, and the way to coexist is to have respect for the peaceful followers of Islam.
Christians and Muslims are brothers and sisters, and we must act as such.

— Pope Francis (@Pontifex) November 30, 2015
[removed][removed]
Christians and Muslims have lived together peacefully for many years. The Pope shares some examples of this as models of coexistence, including Lebanon, pre-war Central Africa, and his home country of Argentina.
Pope Francis strongly condemns the marginalization of migrants in Europe, suggesting that they were "ghettoized" instead of integrated. "In Brussels, the terrorists were Belgians, children of migrants, but they grew up in a ghetto. In London, the new mayor took his oath of office in a cathedral and will undoubtedly meet the Queen. This illustrates the need for Europe to rediscover its capacity to integrate."

Francis' Comparison of Islam to Christianity.
The Pope points out parallels between the two religions to help Christians understand Islam rather than fear it.
In the past Francis has made a comparison between Islam and Christianity meant to remind Christians that their religion also isn't infallible. "One cannot write off a religion because there are some groups — or sometimes many groups — of fundamentalists. How many wars, and not only wars of religion, have we Christians waged? The Muslims were not responsible for the sack of Rome!"
An appropriate reading of the Quran couldn't be interpreted as promoting violence according to Francis, though is this despite the fact that in the history of Islam and Christianity there is nevertheless unjust violence.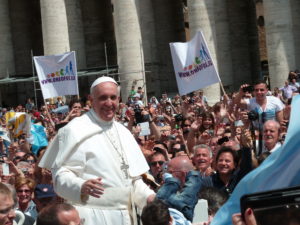 He also points to a shared idea of conquest in both religions. But, this idea of conquest is a peaceful one about spreading faith. "It is true that the idea of conquest is inherent in the soul of Islam. However, it is also possible to interpret the objective in Matthew's Gospel, where Jesus sends his disciples to all nations, in terms of the same idea of conquest."
In the context of European history and multicultural identity, Francis never refers to Europe's roots as Christian. He sees Christian contributions not as a triumphant dominating force, but as service. He points to the Christian duty to Europe as one of service, as in Christ washing the feet, and certainly not a colonial "conquest" enterprise. Europe's multicultural identity allows it to be inclusive, which could be leveraged to promote integration.


What were other Popes' positions on Islam?
Other Popes, like Pope Benedict XVI, are famous for their opposition to Islam. In 2006, his lecture in Regensburg, Germany sparked international protests after he quoted a 14th century Byzantine emperor who referred to Islam as "only evil and inhuman."
On the contrary, Pope Francis certainly isn't the first Pope to open his arms to Islam.
Paul VI espoused the Second Vatican Council's formal teachings that regard Muslims with esteem, which includes a list of tenets of Islam with which Christians also agree.

Benedict XVI saw Muslims as allies in the fight against secularization and atheism.

John Paul II's views were the most consistent with Pope Francis'. In 1979 he also called for interfaith solidarity, "Christians and Muslims have entered a new period of history, to recognize and develop the spiritual bonds that unite us, in order to preserve and promote together for the benefit of all men, 'peace, liberty, social justice and moral values' as the Council calls upon us to do."
Pope Francis' strategy for tolerance and peaceful coexistence is now personified by Sadiq Khan. The recently elected mayor of London is the first Muslim to hold the office, making him a glowing symbol the idea of integration in Europe. By following Francis' tenets of tolerance and religious freedom, there is hope people of all religions to come together in peaceful coexistence.
Read more details about true Islam in GLOBALO, like We are islam – not IS.
And about the Christian art of peacemaking and reconciliation by famous Arch Bishop Alfons Nossol from Opole (Oppeln) in Poland.
Share