007 Day of the Dead
Thousands of Mexicans gather in Mexico City to celebrate biggest ever #dayofthedead parade pic.twitter.com/bDFFeblWhl

— China Xinhua News (@XHNews) 30. Oktober 2016
[removed][removed]
"Día de los Muertos" is a traditional festival in Mexico, remembering all dead.
Out of the country it got well known in a James Bond movie in 2015, called Spectre.
The first place is Mexico City, and the movie starts with a March of the Dead- see photo below with 007 masked as Mr Dead.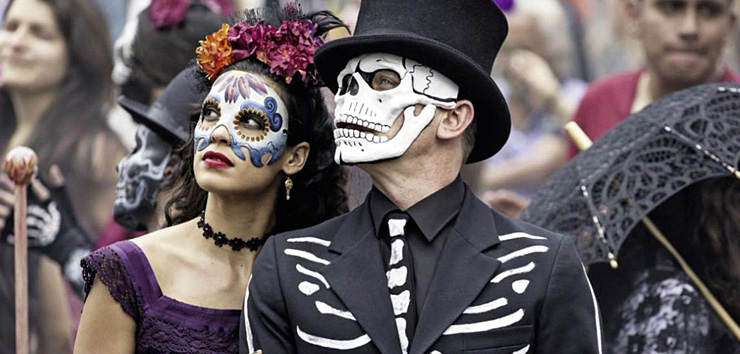 Following Gareth Mallory's promotion to M, James Bond takes leave from MI6. Receiving a posthumous message from the previous M, Bond carries out an unauthorised mission in Mexico City, killing three men plotting a terrorist bombing on a stadium, before giving chase to their leader, Marco Sciarra. In the ensuing struggle, Bond steals his ring, which is emblazoned with a stylised octopus. Bond then kicks Sciarra out of a helicopter causing him to fall to his death.
Now the Día de los Muertos happened again in Mexico with a  good timing for Halloween all over the world.
How much do you know about #LaCatrina? Well, Mexico is preparing the tallest iconic skeleton figure for #dayofthedead pic.twitter.com/TByH3XPdTv

— China Xinhua News (@XHNews) 29. Oktober 2016
[removed][removed]
#DayoftheDead celebrations & parades are here! Turn into the most impressive #Catrina with our 10-step tutorial. Make-up by Gabriela Méndez pic.twitter.com/yL4zDAIBHT

— México (@mexico) 27. Oktober 2016
[removed][removed]
Share