What You Need to Know About the Impeachment of South Korea's President
What You Need to Know About the Impeachment of South Korea's President
The Constitutional court of South Korea has removed President Park Geun-hye from office after upholding a decision by the National Assembly to impeach her on charges of corruption and dereliction of duty. The head of the court Lee Jung Mi said Park had "violated the principles of democracy and rule of law." 
Months of protests with hundreds of thousands of people have had an effect.
Park is the first democratically elected leader of South Korea to be stripped of office.
The court voted unanimously in favour of impeachment.
A snap presidential election to take place as soon as May.
The ruling caused violent clashes outside the courtroom in Seoul between protesters and supporters, with two deaths as a result according to the Yonhap news agency. They included a 72-year old man found bleeding from his head. About 30 protesters and police officers were hurt in violent clashes, according to authorities
This scandal has shocked the world's 11th biggest economy because not only has the President been impeached, but the "trial of the century" is taking place with Samsung in the middle – the country's largest and most powerful company. The heir to the family-run empire began his trial on Thursday and is accused of making payments of up to $38 million to Park and her controversial advisor Choi Soon-sil.
Choi is the powerful daughter of a late cult leader, and while she has no official role in government, prosecutors allege that she wielded huge power in policy decisions and was able to bully companies accordingly.
Mass protests preceded the impeachment with hundreds of thousands packing the streets of Seoul for months, demanding her removal.
Demonstrators in South Korea scuffle with police after court upholds decision to impeach President Park Geun-hye. https://t.co/0KbqCu6Zzt pic.twitter.com/6PFWkHs0mM

— ABC News (@ABC) March 10, 2017
[removed][removed]
The ruling marks a dramatic fall from grace of South Korea's first woman president and daughter of Cold War military dictator Park Chung-hee, both of whose parents were assassinated.
The facts:
The eight-judge panel unanimously voted to impeach the president, reading the decision, acting Chief Justice Lee Jung-mi said: "The negative effects of the president's actions and their repercussions are grave, and the benefits to defending the Constitution by removing her from office are overwhelmingly large."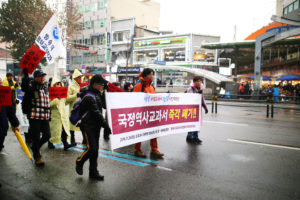 Park is accused of allowing her long-term family adviser Choi to illegally meddle in state affairs and accept payments of up to $38m from Samsung in order to smooth the process of a controversial merger of two of its biggest affiliates while "thoroughly hiding" her involvement in government.
Park continuously denied any wrongdoing, but now faces a criminal prosecution as her presidential immunity has been stripped, along with her presidential pension.
The decision by the Constitutional Court means a snap election has to take place within 60 days. The likely date is May 9th, with the electoral commission already accepting candidate applications. The front-runner is said to be Moon Jae-in, who lost to park in 2012 and was quick to applaud Park's removal from office. "The history moves forward based on the power of the great people. South Korea will start anew based on this fresh and amazing experience," she said.
Regional tensions continue to simmer
North Korea is also capitalising on the controversy with state media calling Park a "common criminal" in an uncharacteristically fast response. Whoever is the successor will have to deal with the rising tensions in the region.
This is a dangerous time for South Korea. While Xi Jinping has a firm grip on power in China and a clear strategic vision for the region, Donald Trump is jumping from one self-induced crisis after another. Given the political crisis in the United States, South Korea should avoid making long-term commitments with China that they may regret. South Korea-United States-Japan defence alliance has kept the peace and prosperity in East Asia for over 60 years.
Any sign of turning back on this alliance-including reneging on THAAD deployment- will simply lead China to insert itself further into South Korean affairs. China is already wielding the economic sword against South Korea over THAAD, banning Korean cultural exports and stemming the flow of Chinese tourists. Giving China any influence over South Korean national security is to invite disaster.
Ultimately, it is the Chinese Communist Party that controls China. CCP will never tolerate a united Korean peninsula with a thriving democracy. Instead, CCP will always choose to prop up a Communist North Korea, even if led by a madman, as long as it serves as a buffer zone that it can control.
Crowds cheered as a unanimous Supreme Court affirmed the impeachment of a corrupt president. That was South Korea today. C'mon, America!

— George Takei (@GeorgeTakei) March 10, 2017
[removed][removed]
Share